TOYOGUARD®
Want to know how you can make caring for your new Toyota easier than ever?
At Rivertown Toyota, we are committed to providing you with the coverage you need. That's why we offer TOYOGUARD® Platinum, an extended protection plan that adds up to 3 additional years to your ToyotaCare plan!
All drivers who purchase any new Toyota from Rivertown Toyota are eligible for this upgraded care plan. Call us anytime for more information, or visit our dealership to speak to an expert today! We serve drivers in Columbus, Phenix, Auburn, and LaGrange, GA.

Additional Services Provided By TOYOGUARD® Platinum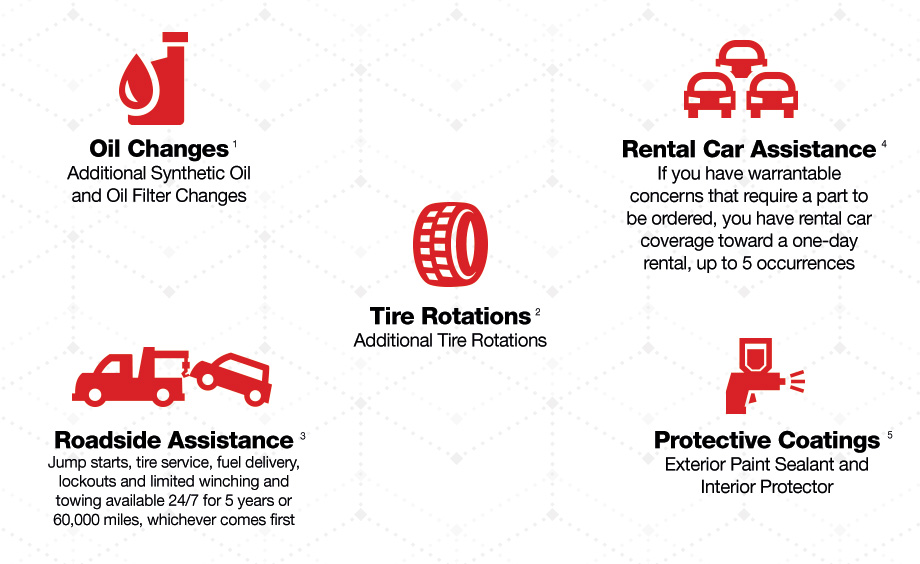 Compare TOYOGUARD® Benefits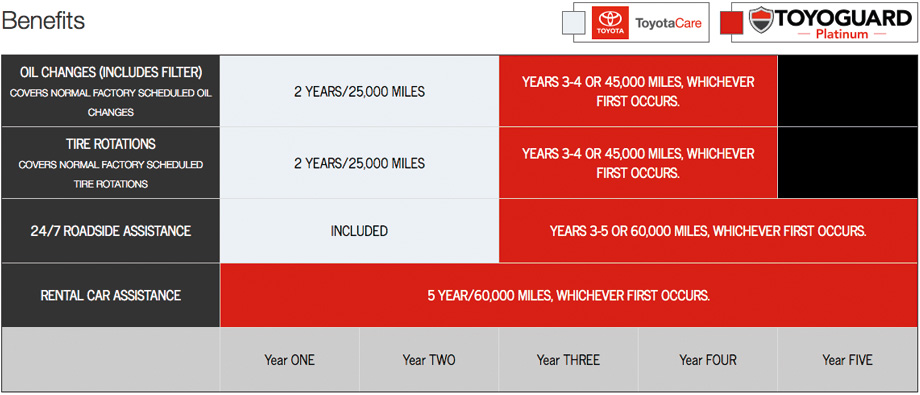 Available on select pre-owned vehicles only, Limited Lifetime Protection covers the engine, transmission, transfer case and drive axles on every eligible vehicle for as long as you own it. See dealer for details.
Don't Delay. Protect Your New Toyota With TOYOGUARD® Platinum Today
If you're even thinking about buying a new Toyota, think of the long term benefits of TOYOGUARD® Platinum at Toyota of Rock Hill, serving Rock Hill, Spartanburg, Lancaster, Rockingham, and anywhere in the greater Charlotte area. Ask any sales associate about the added security that comes with available TOYOGUARD® Platinum protection, or fill out the form on this page for more information. Plus, don't forget – everything we sell come with the featuring service savings, discounts and more.
DISC: 1 TOYOGUARD Platinum coverage on oil changes and tire rotations is for 4 years or 45,000 miles from original date of ownership, whichever comes first. Roadside and Rental Car Assistance are for 5 years or 60,000 miles from original date of ownership, whichever comes first. See dealer for details. 2 Must be redeemed with 10 years of original purchase. See dealer for details. 3 Does not include parts and fluids, except emergency fuel delivery. 4 Limit 1-day rental per warranty repair, up to a total of 5 rentals with the 5-year/60K-mile period. Maximum rental coverage: $35 per day. Note: Warranty repair must require Toyota parts replacement. Rental vehicle must be obtained from a Toyota dealer, a non-Toyota rental service, or a national recognized rental agency. Important: TOYOGUARD Rental Car Assistance is not provided if you are eligible for reimbursement under the Toyota Transportation Assistance Policy which provides a loaner vehicle or alternative transportation if a warranty repair will take longer than one day. See dealer for complete details. 5 Interior Protector does not apply to leather, vinyl, or any other surface than fabric seats or carpets. See dealer for details.